ABOUT US
The Joseph Skakun Project is a 501 (c) (3) federal tax exempt charity, founded by Michael Skakun, an author and son of genocide survivors, to educate future generations about the enormity of the Holocaust, as well to convey the power of the resilient imagination in surmounting extremity. This cultural and memory initiative will convey the message of human solidarity and tolerance via innovative programs in the realms of education, the performing arts and interfaith dialogue.
Founder: Michael Skakun MBA FRSA 
Michael Skakun, born in Jaffa, Israel, and raised in New York,  has served as a journalist, author, and translator. As a public affairs specialist, he has worked for National UJA and Israel Bonds, and the Congress for Jewish Culture, as well as a host of  non-profit organizations and Jewish institutions where he's cultivated a wide network of contacts and associations. He has served at such publications as the Forward (both English and Yiddish), the Litchfield County Times and the New York Observer as cultural writer and book reviewer.
The son of Holocaust survivors, he is the author of "On Burning Ground: A Son's Memoir" (St. Martin's Press), the story of his father's nerve-peeling, inspirational wartime survival. The recipient of a starred and lead review in Publisher's Weekly, the book was described as "distinguished by outstanding writing and moral complexity." The Washington Post labeled this tale of extreme masquerade the "The Story of a Holocaust Houdini." In the "Oprah" reissue of his classic "Night," Noble Peace Prize winner Elie Wiesel chose "On Burning Ground" as one of five books for advanced reading about the Holocaust, in the company of "The Pianist" and "The Rise and Fall of the Third Reich" among others. A feature film based on this story is now in preparation. Michael was elected a fellow of Royal Society of the Arts in 2022.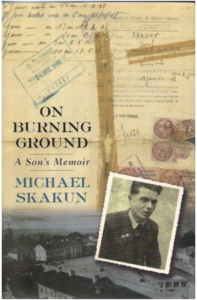 by Michael Skakun (St. Martin's Press)
"On Burning Ground" traces how at the height of World War II, Joseph Skakun, a devout blond-haired European rabbinical student steeped in a legendary form of ethical piety, as well as trained in the analytic rigors of talmudism, adopted multiple religious and ethnic identities, including those of a Christian and a Muslim, to survive. The story culminates with his desperate gambit at life – his entry as a volunteer recruit into Hitler's Waffen-SS, the most feared and fearsome of Hitler's fighting divisions.
The Washington Post went on to say: "To assume a fake identity is not so strange; spies and lesser impostors do it all the time. But for a devout yeshiva student to invent a combination of false selves through which he not only escapes the Nazi death camps but actually ends up as a recruit for the Waffen-SS – now there's a definition of chutzpah (nerve)." After the war, the wheel comes full circle as Joseph Skakun, in a post-traumatic fog of anguish and doubt, manages to return to his ancestral faith first in Paris and then in New York.