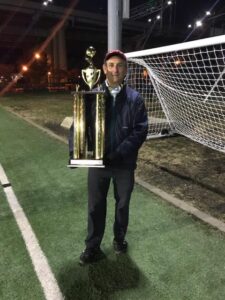 NYU Alumni Magazine
February 19th 2019
Jason Grant Shela (GSAS 97) awarded prestigious MBE from Queen Elizabeth II.
2018 was the annus mirabilis for a proud NYU graduate and a latter-day Renaissance man of multi-faceted talent. Jason Grant Shela (GSAS '97) has been awarded the MBE (Member of the Most Excellent Order of the British Empire) by Her Majesty Queen Elizabeth II in the 2019 New Year's Honors List for his services to youth soccer education and work with youth with disabilities. Later this year, he will be inducted at Buckingham Palace in a special investiture ceremony into this most prestigious British order of chivalry, founded in 1917 by King George V. The only Gothamite to be thus honored this year, he also ranks as the first Englishman to have been elected a Fellow at the Center for the Study of the Presidency in Washington D.C.
Jason's American journey of achievement was paved by earning a master's degree in International Relations from NYU in 1997, as well as by winning the Steven Spielberg Scholarship for international study at the Jagiellonian University, Cracow, Poland, his ancestral home. NYU afforded him a wide array of opportunities to flourish academically and to aspire to the heights of selfless service as a champion of the disadvantaged and the underserved. His latest foray into the world of dedicated service is his assumption of the theatrical helm of The Joseph Skakun Project,  a non-profit cultural memory initiative dedicated to bringing history and heritage to life via the performing arts. In dedicating his life to the advancement of the greater good, Jason, a sage alchemist, creatively transforms athletic, musical and theatric experiences for those who otherwise would not have the opportunity.Jason's international financial and business acumen, developed at NYU, reflects the University 's status as a world-class institute of higher learning. A longtime expert in the field of risk and alternative asset management, he has successfully contributed his expertise in organizational strategy and implementation, programming and team optimization in both the public and private realms.  Demonstrating foresight in climate research and commentary, he published one of the first academic papers on the subject of weather risk mitigation and its impact on the global economy in the NYU Stern Journal of Finance. Jason wrote on business and finance for Japan's Yomiuri Shimbun, worked in energy risk for ABN AMRO Bank and then went on to found his own strategic consulting company advising international client such as the World Bank, Interpublic, middle-market companies, start-ups and non-profits.A proponent of sports as a great unifier and equalizer of society, Jason has made it his life work to bring the game of soccer to thousands of New York City Kids, affirming a steadfast Anglo-American link and constructing a transatlantic bridge of understanding. In the fall of 2018, he coached the Hunter Middle School Boys and Girls soccer teams to the NYC Public Schools City Championship. He also created The Soccer Goodwill Festival Program aimed at building links between players, their families and the wider community. He has developed transformative and innovative soccer and sports programs for children and adults with physical and intellectual disabilities across the spectrum. He was honored by AHRC for his many years of service to this community. He has been a driving force in the success of the Elephant Soccer Club of Harlem, a non-profit community-based program serving local children and families. A connoisseur of sportsmanship and model of mentorship, he exemplifies the virtues of the effective team player, courage, coordination and grace under pressure.He is a firm believer in the power of the theatric and musical arts and is himself a passionate personification of its emancipatory truth. He has written, directed, performed in and produced many shows in New York, Memphis and Mississippi. A trained classical musician, he has received multiple ASCAP awards for original music composition and has gone on to produce and compose original music for Fox Sports Channel and has licensed music for shows on HBO, Sirius and independent projects. He collaborated on an NPR Radio documentary about the Brazilian favelas during the 2014 World Cup. Jason's entertainment projects are legendary, an enviable roster of accomplishment stretching across continents.He co-founded My Generation Theater, a creative, collaborative and educational organization of actors, writers and musicians, dedicated to bringing history and culture alive through the performing arts. Ever loyal to his birthplace, he is the founding producer and creator of the British Music and Theater Festival, a live celebration of British music, theater and comedy. He has produced magnificent British musical tributes, perhaps best exemplified by his role as creative director and producer for the special tribute to his friend and mentor, the legendary Sid Bernstein, the man who brought the Beatles, Rolling Stones and many other noted bands to America, initiating the epochal British invasion. Jason is a respected playwright and composer and is currently writing a new musical with Michael Friedman entitled, 'Petticoat Lane,' based on his own family's experiences living in London's East End in the early 20th Century.Jason's commitment is further instantiated by his years in the Royal Air Force Cadet Corps, as well as by his captaining the Yale University Graduate Soccer team to victory over Harvard during his post-graduate studies there. In England he excelled and played rugby football for Wasps RFC, Fulham Rugby League FC and represented Middlesex County, London and Great Britain Rugby at the Maccabiah Games. This accomplishment is in league with his education at Clifton College, whose graduates include Sir Michael Redgrave, Sir Trevor Howard and John Cleese of Monty Python.He recently founded the Youth Enrichment International Think Tank which further enhances his leadership in social entrepreneurship and commitment to developing socially responsible initiatives and life enrichment programs for inner-city youth and youth with disabilities within the framework of sports, music, theater and the arts."New York University gave me an incredible multi-faceted foundation in International Relations during my graduate studies, the professors and my fellow students were truly amazing and inspiring. Receiving the Steven Spielberg Scholarship for the NYU international program in Cracow, Poland was the most moving experience of my life. I am very proud to be an alumnus of this outstanding university," says Jason.Jason will be conferred the high accolade of British chivalry in the regal splendor of Buckingham Palace precisely for his unyielding hope and humility in service of others. His programs and outstanding deeds continue to be his finest form of eloquence, his quiet, yet resonant, path in helping to create and celebrate harmony, community and understanding in the world today.