Dear Friends, as many of you know my beloved father Saville was taken from us on April 7th due to complications from the Covid Virus. He was the most kind, caring, funny, compassionate man and outstanding footballer & athlete, who always had a comforting and encouraging word to those in need, gave of himself selflessly and was a friend to so many throughout his 83 years on earth. In his esteemed name, our family are establishing the Covid Comfort Angels.
So many of you have been comforting angels to us during this time, it has helped us cope with our loss and deep sorrow. We believe that every human being is capable of incredible kindness and comfort to others in this dark period. So please join our army of benevolent souls and reach out to those in need at this time. A simple phone call, email or text works wonders whether its to family members, friends and neighbors, and those you don't know, specially those living alone and the elderly, to those with loved ones in hospital offering prayers for speedy recoveries and of course to those like us who have lost loved ones. The milk of human kindness knows no limits and as we all face this together, let us all find our inner angel and comfort those in need.
We are pleased to announce the formation of the Saville Shela Memorial Sports & Arts Fund, c/o The Joseph Skakun Project 501c3 Non Profit. Our focus is serving inner city and youth with disabilities through sports, music and arts programs. Donations can easily be made online via Zelle or Chase Quick Pay using the following email [email protected], and please designate that it's for the Saville Shela Memorial Sports & Arts Fund.
With Love,
Jason, Sheila, Mary, Sam, Rachel & David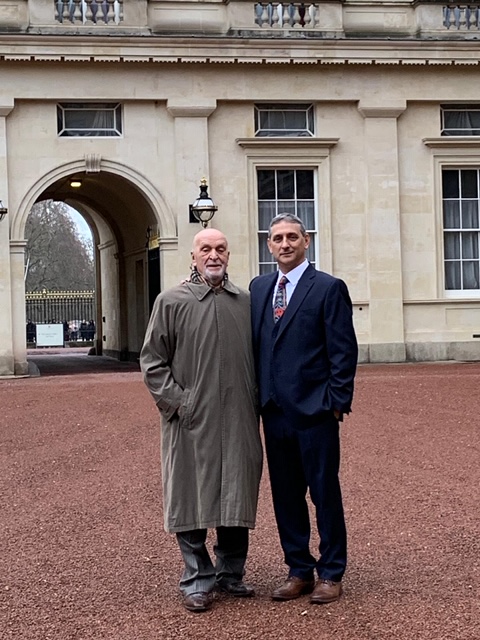 For more information, please contact .. [email protected] ..
Saville Shela – A Man for All Seasons
By Michael Skakun
Saville Shela, legendary footballer, a man who embodied the quintessential English virtues of sportsmanship and teamwork sadly passed away on April 7th due to complications caused by the corona Virus at age 83.
Saville was born in 1937 in Spitalfields, in the heart of London's East End. His father Harry was a furrier and came from a Romanian family and lived in the Tenter Ground, Stepney. His mother Gertie was born in Mlawa, Poland, she settled with her family in St. George's Street in Stepney in 1913. His maternal grandfather Ephraim was a Talmud Chochum who served as Gabbai at the Cannon Street Road Synagogue for many years. His paternal grandmother Devorah was a devout woman and well-respected healer who specialized in the use of homeopathic remedies.
Saville grew up in Evering Road, Clapton. He attended Northwold Road School and Lea Bridge Road Talmud Torah before going to Parmiters Grammar School in Bethnal Green. He lived through the Blitz when the Luftwaffe bombed London night after night during the Second World War. He used to collect shrapnel from the various bomb sites. One morning he found the post office at the top of northworld road had been completely destroyed except for a retaining wall. The bomb fell only a few hundred yards from where he lived.
After the war, the young Saville loved to watch his football heroes at Tottenham Hotspur and watched the great push and run team which won the first division in 1951 under Arthur Rowe. Ron Burgess was his favourite player. He was asked to join one of East London's youth football clubs, Walsingham Rovers. They played their home matches near Clapton Dog Track and in one record-breaking season went unbeaten winning 40, drawing 2 matches and he scored 34 goals. Saville excelled at most sports but at football he was unrivalled and soon found himself recruited to play for the famed Hackney Club where he was the youngest member of the team at 13 playing with 18 year olds. He left Hackney to join Stamford Hill Club and led them to many AJY Football Championships and captained the Great Britain AJY Team. Saville also represented the club at cricket and table tennis. He also recounted the story of his unbeaten boxing career. The Club trainer asked him to accompany the team to a match against the Brady Boys Club, another well known East End Youth Club. Before he knew it, the trainer had the gloves on him and into the ring he went. The large crowd assembled in the gymnasium started shouting come on Tiger, as his crouching style was akin to the great boxer Alfie Phillips, known as the Aldgate Tiger. Saville won his fight, Stamford Hill defeated Brady and many reckoned he could have gone far in the ring, but the modest Saville decided Football was more his cup of tea than boxing and he duly retired unbeaten.
He left school at 15 and went to work in the fashion business for Posners, where his Uncle Sid recommended him. At age 18 in 1955, he was called up and spent two years in the Royal Air Force. In the second year, he was sent abroad to Germany and stationed at Alhorn in the British Section. His footballing prowess soon brought him to the attention of the Station Manager and Saville was selected for The Royal Air Force Football Team which played matches against amateur and semi-professional German teams throughout the region. A great English Patriot, Saville said of his experience in the Air Force, "It was two of the happiest years of my life."
When he left the RAF, Saville joined the firm of Esbee Gold, a manufacturer of Woman's Fashions. He serviced retail and wholesale customers the length and breadth of Great Britain. At the same time he was offered a professional trial at Tottenham Hotspur but never went and joined the senior amateur football club Wingate FC, where for 10 years he topped the scoring ranks averaging 20-30 goals a season. The Great Britain selectors duly noted his talent and he was selected for the 1961 Maccabiah Games in Israel. He was top scorer during the tournament and Britain won its only ever Gold Medal with Saville scoring both goals against the host nation in a 2-1 victory in Haifa. The winning goal against Israel was probably the strangest one he ever scored. The ball was headed out of the box from a corner and as it bounced he back-heeled it hard on the half-volley from 20 yards out and it flew past the keeper into the top corner of the net. He won silver at the 1965 Maccabiah Games. Saville scored over 350 goals during his playing career.
Later in the 1960s he started his own fashion business in Commercial Road and for over 30 years brought his own creative innovations to the world of fashion. He married his beloved wife Sheila in 1966 just a few weeks before England won the World Cup and they were married for 53 years. After retiring from football he took up squash and made it to the final of the All-London Maccabi Open Championship. He later took up tennis and represented Great Britain Seniors in Spain and at the 1997 Maccabiah.
Into his eighties he was still super fit, swimming 80-100 lengths every day. Saville was respected and held in the highest esteem in the fashion industry and in the football world and by all those fortunate enough to have encountered this wonderful, kind, compassionate man. He never forgot his humble beginnings in East London. In December 2019 he enjoyed one of his proudest moments, accompanying his wife of 53 years Sheila and daughter in law Mary to Buckingham Palace to watch his son Jason's MBE investiture by Prince William, for services to Football Education and Youth with Disabilities. In keeping with his father's legacy of giving and community spirit, Jason has launched The Covid Comfort Angels initiative to bring comfort and solace to those who are also mourning and have relatives in hospital. Saville Shela had the ability to bring out the best attributes in everyone he met in sports and in life, he truly was a man for all seasons.
The Glory of the Eternal Game (copyright 2020)By Jason Grant Shela MBE inspired by Saville Shela
As the long days of summer start to wane
And the thoughts of another season rise
In hamlet, village and town in every land tis much the same
To embark once more on the journey in pursuit of the prize.
The pilgrims traverse the hills and dales in breathless unending run
Yet never will their spirit be dampened however hard the fight
Through tempests of harsh rain and firebrands of scorching sun
It's survival of the fittest as the finish line at long last appears in sight.
The preparation for battle laid out in minute detail
As warriors enjoin upon hallowed pastures of green
Tis a very thin line between victory, defeat, Valor and betrayal
Where the brave emerge stronger and far wiser than foreseen.
The quest endures with a yearning passion for glory
The cry is heard in the distance All for one and one for all
Though memories may fade yesterday's boys are never forgotten
As the torch is passed to the next generation as tomorrow's boys will rise and fall.
The match finally won the hero Savilus lifted victorious on fellow shoulders up high,
All has been given til the last earthly whistle rings out upon this vale of tears
As the everlasting soul flies free into welcoming clear, magnificent azure sky
For the glory of the eternal game, played forever in celestial spheres.
Saville
by Samuel Edward Henry Shela

(I was inspired to write this poem because my Zeida had such a love for poetry and he was a great poet himself.)
Saville, Saville if ever there was a man
If you thought you couldn't, He'd tell you, you can

He came from Clapton, an East End boy,
to everyone he met, he brought so much joy.

He scored 400 goals, so many to thrill,
The undisputed king of Wingate and Stamford Hill.

He lived in London with his lovely wife,
I was very blessed to have him in my life.

If you met him once you knew he was quite a man
There were none finer in all the land.

Tremendous memories is all we had,
he really was quite a lad.

He could light up even the darkest room,
you left this world, far too soon.

You made my Booba happy for 54 years,
the loss of you brought me to tears

Not only a Zeida but a friend as well,
He meant the world to me, In case you couldn't tell.

He love to play tennis and swim lots of laps,
a real mensch to all and a lovely chap.

You loved to play every game,
and we are so proud, to carry on your good name

Recruited by G-d to play football above,
he filled my heart, with nothing but love.

The loss of Saville is too very sad, He knew how much I loved him
And for that I'll always be glad.